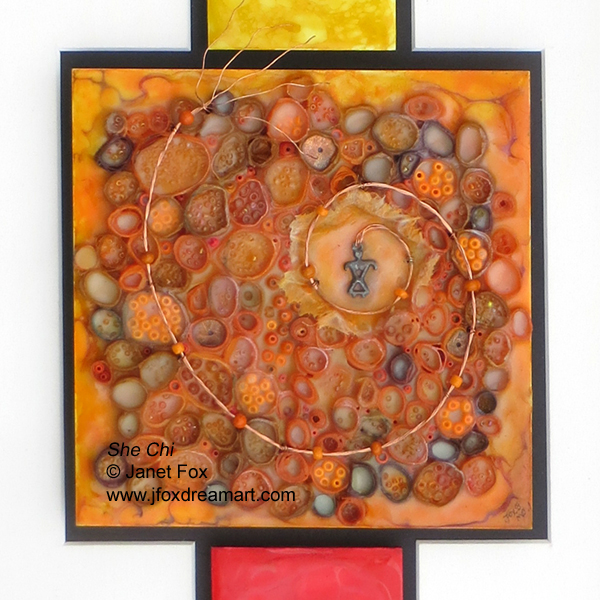 She Chi or feminine energy
She Chi is an original, 7-panel, encaustic mixed media painting inspired by an amazing springtime dream that went something like this…
Once upon a dreamscape, a woman was spending a quiet spring evening in a peaceful secluded park at the edge of a forest. Positioned up a bit on a hillside, she sees train tracks over yonder with a very unusual train. The train's cars were open face, with flat beds and many cozy spaces.
One of the cars, toward the back, is humming with a lot of motion. As she zooms her eyes and focuses in, she realizes the car is full of something living. It is full of all kinds of incredible talking ovaries!" They are fully alive and chattering amongst themselves, but only about what they know best…every and all kind of egg thing imaginable! Some were quiet and in serious conversations, while others were joking and laughing. This was a surprising and curious sight, indeed!

The next car toward the front on the train is similar, except it is full of stomachs! They were busy talking about what they know best… all kinds of stomach things! And so it went like that all the way up to the front of the train, to where the brains were driving the engine.
Now on the track in front of this women's train, a big, dark and hollow train was barely moving, all tuckered out with only a tiny spark of energy.
About now, "HER" voice from another realm is heard all around, filling every sound space. "SHE" directs the women's train to approach the hollow train and to "drive through" it to fill it out from within. Once inside, the women's train engine carefully makes its way through to the hollow train's engine space, where it begins to settle down and fill it out.
Finally, as this union is complete, "SHE" declares the plan a success!…
A dream calls out to be painted
This dreamscape absolutely caught my attention; I was especially intrigued by the talking ovaries. The feminine voices must be heard: they were animated, energized, and speaking their truth in so many ways. This vivid dream was bound to inspire a painting, plus some interesting conversations and insight, too.
While working on some initial ideas and sketches, I researched to learn more about this area of the female body:
"The Female Pelvis, Anatomy and Exercises," by Blandine Calais-Germain, is filled with easy-to-understand text and illustrations showing the pelvic bones, how they are shaped, and how they move and work together. Separate chapters focus on the muscles, tendons, and organs. See how amazing this area is – able to dramatically expand and transform during pregnancy, childbirth, and then in later years. The book also shows targeted exercises to help keep this area healthy. While reading this book, I realized how much about this area I had not known before!
Turning to the emotional, psychological, and spiritual realms, "The Creation of Health" by Dr. C. Norman Shealy and intuitive Caroline M. Myss explores the flow – and blockages – of energy, or chi, in this second sacral chakra region.
And in the outer world, so many female voices are courageously speaking out, demanding to be heard and inspired by the #MeToo movement.
About She Chi

This complete art piece includes 7 squares, each representing one of the chakra regions of a human being.
I emphasized the orange, second chakra area, with thin o-shaped coils of handwritten, egg and ovary-themed notepaper embedded in multiple layers of pigmented encaustic. A variety of round or egg-shaped beads fill many, but not all of the coils. Finally, the feminine charm in the painting's center, perhaps symbolizing a sort of kundalini experience, provides the energy to push forth its truth.
⇒  For information about viewing or purchasing this artwork, contact Janet Fox.
Save
Save
Save
Save
Save
Save
Save
Save