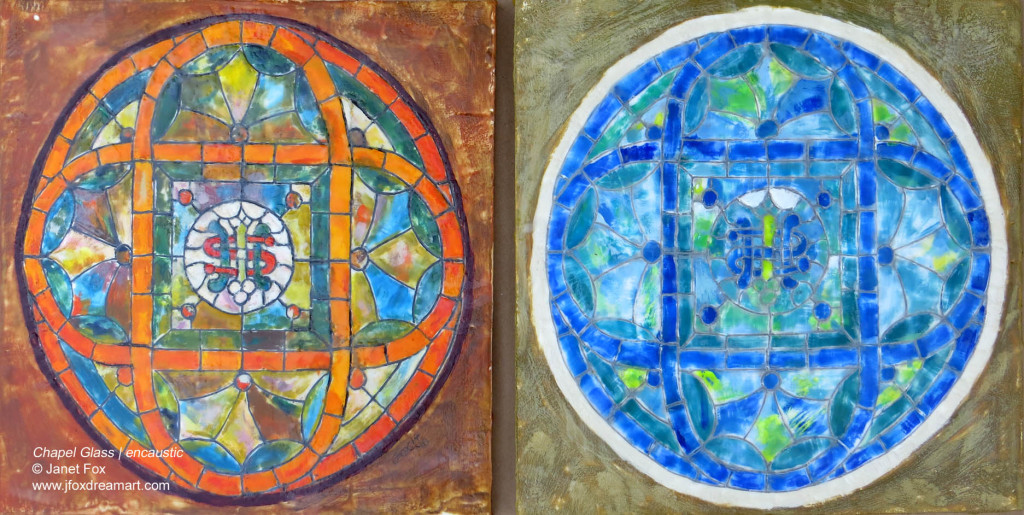 Looking Through a Chapel Glass
My encaustic painting, Chapel Glass, was inspired by the beautiful stained glass window in the former chapel in the center of the grounds at the Congressional Cemetery in Washington, D.C. I visited the historic cemetery in late winter in preparation for the "Back to Life" art exhibition in April 2014. I was drawn to the building and its windows, wondering who and how many others had gazed through the glass over the years.
As excerpted from the "History of the Congressional Cemetery," published by the U.S. Senate in 1906, "…the "Congressional Cemetery" was originally known as "The Washington Parish Burial Ground." The official name is rarely used, however, and it has nearly always been called the "Congressional Cemetery."
The reason for this is… when the cemetery was first established in 1807, it was chosen by the United States as the place of interment for nearly every member of Congress or executive officer who died while holding office, and the custom was adhered to by the Government for many years afterward." For more details, the History link on the Congressional Cemetery's website is the place to go.
I first painted the panel shown above on the right, based on my notes and a photo I took while on the grounds. This exterior view includes layers of blue and green hues, with touches of yellows and white.
Then, while unsuccessfully researching to find the original artist, date, and name of the window, I discovered a surprisingly different view. It is the left panel as seen from inside the chapel. With sunshine streaming through the glass, it displays lively yellows and oranges, with speckles of pink, white and light blue. Perhaps to someone attending a loved one's funeral, this brighter view brought some rays of comfort.
These views also became a metaphor for the things, people, arguments and situations that change depending on the viewers' illumination, mindset and vantage point. And close-ups look different than broader perspectives from far away.
I suspect the members of Congress buried there expressed many different and colorful thoughts, ideas, opinions and positions during their lives and times in office, too.
More different views that you might enjoy
Kathryn Vercillo explores optical illusions… two faces or a vase? old or young woman?
"It's a mighty thin pancake that don't have two sides," is a phrase Rex Early, an Indiana political analyst, would say frequently on the "Indiana Week in Review" radio program. He wrote a book by the same title.
What reminds you that you can see something many different ways?
⇒  Feel free to add your note about this post or view others' thoughts by clicking "Leave a Comment / Comments," below.
⇒  For information about commissioning a similar piece, contact Janet Fox.