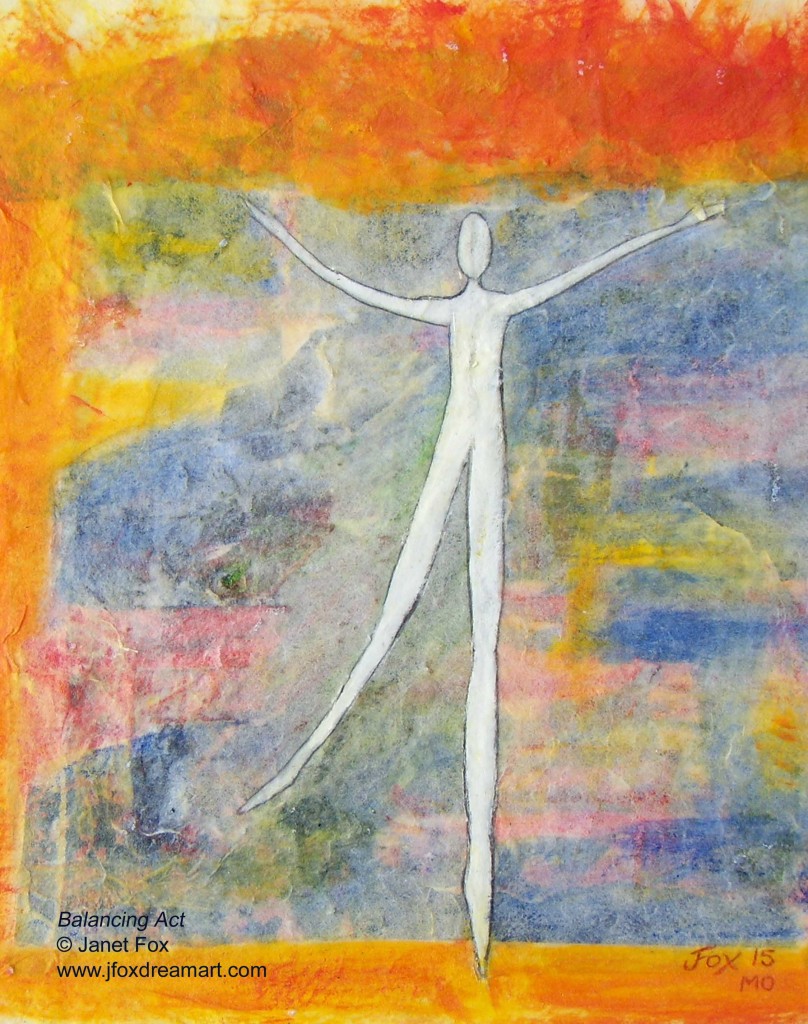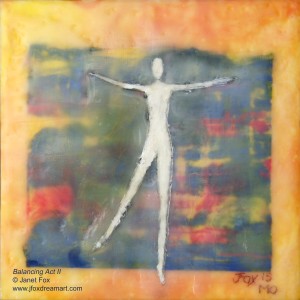 Running, jumping, balancing… yes!
Dreamscape… I'm in a fitness center, walking on a treadmill while a small group gathers on nearby mats for an aerobics class. The instructor begins class and everyone starts moving to the music. I like the music and find myself walking to the beat. I'm having fun and before I realize it, I'm running and jumping. I didn't know I could move like this any more! So I keep going, dancing and elevating on my toes with perfect balance, thoroughly enjoying that I can, once again, move my body this way. 
Finding balance
When I've experienced awful things, it can feel like ages drag by as I move through the rawness. But through processing the situation, the intensity of the feelings and details often fade over time. Similar steps unfold for wonderful experiences, although I want the happiness and good feeling to last longer.
With faith, hope, perseverance, hard work and others' support, I make it through. And at some point, I find a new balance point after integrating the "before" with the "after."
Rediscovery
Sometimes, I rediscover a valuable something that I previously thought was lost forever. When this happens, my heart wants to dance and jump again, up on my toes with elation. But staying up there for even a few seconds requires immense focus and strength. As I come back down, I appreciate even more the mystery of life and its changes.
I hope you might also enjoy these related ideas from others:
As a child, I read "The Little Engine that Could," by Watty Piper. It's helpful to remember "I think I can, I think I can, repeat…" Here's a history of this story by Roy E. Plotnick.
In a medical context, "The Anatomy of Hope" by

Dr. Jerome Groopman

, explores the role of hope in treating seriously ill people. This summary is in the NYU School of Medicine's database.
The contemplative song, "Before and After," by Carrie Newcomer, features Marin Chapin Carpenter.
About Balancing Act and Balancing Act II
I felt so great when I awoke from the dream above that I decided to paint it not once, but twice! I explored the different results I could achieve using mixed media or encaustic. I also turned on some happy dance music while I was painting, to help me capture the energy of sound and movement.
How do you regain balance?
⇒  For information about commissioning a similar artwork, contact Janet Fox.