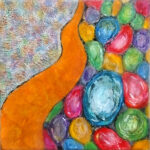 The February show is installed in Gallery 209 and we're ready for you to come in to explore all the new artworks! The theme for my artwork is about journeys… and that we can choose to go fast or slow as we travel. Along yellow-orange paths in the larger artworks, one side is a blur of color that contrasts with the other side full of colorful detailed encaustic geode slices.
Seven encaustic paintings are also inspired by my travels to Switzerland. While there, I was drawn into the Grossmünster cathedral in Zürich, where to my delight and surprise, I discovered the most beautiful stained glass windows. One of them, the Achatfenster (translated to "Agate Window") by Sigmar Polke, captured my imagination. It appears as slices of agate melded together, very earthy yet opaque. I haven't seen anything like it! If travels to Zurich are in your future, stopping to see these windows is well worth it!
The art exhibit opening reception is Saturday, February 5th, from 11 AM – 3 PM. Stop by to see all of the beautiful art on display in the gallery from our 19 local artists, as well as meet and see the work of the many other diverse artists throughout the Artists & Makers Complex!* This show ends Tuesday, February 23rd.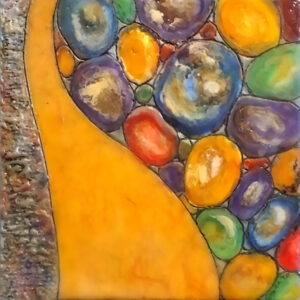 We're located within the Artists & Makers Art Center Complex, located at 11810 Parklawn Drive, Rockville, MD 20852.
Hours are 10AM – 4PM, Monday through Saturday, or by appointment.
Contact me via Gallery 209 if you'd like me to meet you to show you my art.
Gallery 209 artists will take turns in the Gallery every Saturday from 11AM – 3PM.
Opening receptions are usually the first Saturday of the month, or if it's a holiday, the reception will shift to the 2nd Saturday. Receptions also offer an opportunity to visit the many other artists in the Artists & Makers Art Center Complex and see their work, too!.
* Everyone attending must follow posted COVID-19 prevention protocols.
The complete installed Gallery 209 February show can also be viewed online. Additional unframed bin artwork and beautiful art cards are also available in the gallery.
I hope to see you there soon!